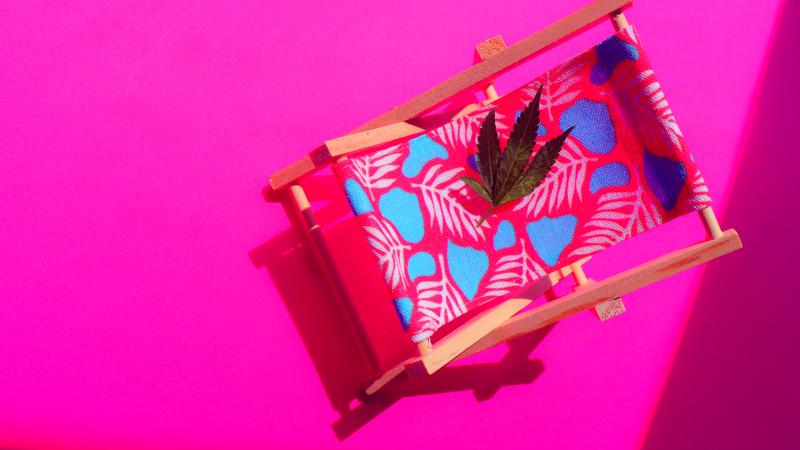 With so many varieties of terpenes available, knowledgeable cannabis breeders are able to create many different flavors and effects.
These unique strains can be recommended to you by your budtender at your local dispensary. If you're looking for a particular flavor aroma, or want to relax, feel uplifted, reduce pain, sleep, or other benefits, just ask! Experienced budtenders can steer you towards the products that fill your desired effects.
We recently highlighted the popular
Grape Danish strain
, or Purple Danish. Today, let's explore another newer strain that is generating some buzz, Tropicana Haze.
A Pheno-hunting Success Story
With it's high potency and pleasing flavors, we consider Tropicana Haze to be one of our newest pheno-hunt success stories.
What is pheno-hunting?
Pheno-hunting is the process of combining male and female plants to create a new phenotype, often bred for specific desired qualities that parent plants offer.
After several generations of cloning and flowering the plants with desired qualities (and eliminating the ones with poor or unstable qualities), the cultivator will end up with one winning pheno. This is a highly meticulous process that takes months, sometimes years, to achieve.
What is the Tropicana Haze strain?
Tropicanna Haze is a relatively newer strain. It is a strong, hazy sativa strain that has a very high THC potency.
Our Tropicana Haze is a cross (91 Skunk VA x Tom Hill Haze) x Tropicanna Cookies.
What do the parents bring to this new, excitingly potent strain of Tropicana Haze?
91 Skunk VA
91 Chem VA Skunk is a highly potent Indica cannabis strain. It offers users a sweet floral aroma and flavor, described by some as being in a lavender field during the mid-summer. Users can expect a slight fuel or diesel aroma and aftertaste.
According to some reviewers, 91 Chem VA Skunk tends to have a slower acting onset of effects. Some users have reported that 91 Chem VA Skunk has been helpful with alleviating symptoms of insomnia, mild depression, and anxiety. Dominant terpenes of 91 Chem VA Skunk are Limonene, Linalool, and Beta-Myrcene.
Tom Hill Haze
Tom Hills Haze is a hybrid strain that originates from: Colombia, India, Mexico, and Thailand.
It may taste fruity, spicy, earthy, sour, piney.
When smoked, this strain can make you feel euphoria, creativity, calm, numbness, appetite gain, and pain relief.
Tropicana Cookies
Tropicana Cookies is a sativa dominant hybrid strain. As you can guess from the name, this strain is sweet, fruity, flowery, with a strong citrus orange flavor.
The effects of Tropicana Cookies are described as Calming, Creative, Energizing, Focus, Giggly, Relaxing, Sociable. This makes it a good choice for people looking to alleviate symptoms of anxiety, depression, mood swings, nausea, or stress.
Tropicana Haze: Sativa or Indica?
Sativa is dominant in this strain. But as we've mentioned before, more cultivars are looking at terpenes as a bigger determinant of cannabis effects, rather than sativa or indica classifications. (We'll cover this in more detail in another article).
What is the dominant terpene?
Myrcene is the dominant terpene in Tropicana Haze.
Myrcene is the most common and a particularly potent terpene, with a spicy, earthy, musky scent that gives cannabis strains a mildly sweet flavor profile.
Myrcene can also be found in plants like lemongrass, eucalyptus, and ylang-ylang, fruit like mangoes, and herbs like thyme, basil, and hops (the one that gives flavor to beer). But myrcene is most abundant in cannabis.
Myrcene is the terpene to turn to for calming the body and mind.
What is the flavor of Tropicana Haze?
The flavors of Tropicana Haze are described as Orange, Skunk, Hoppy
Users describe this strain as "sweet".
The taste when smoked is mostly spicy.
Reviewers have this to say about the flavor of Tropicana Haze:
"The sweet citrus aftertaste makes this potent strain outstanding!"

"It has a sweet fruity flavor. Relaxing & uplifting."

"Mostly straight haze taste with a slight citrus flavor."


What are the effects of the Tropicana Haze strain?
The most common way users describe the Tropicana Haze strain is that it made them feel "uplifted" or "happy".
This strain is energizing, and with a THC level averaging 20 or higher, has a high potency.
Because of its energizing effects, this is recommended as a daytime strain.
One reviewer from Florida Medical Cannabis says, "I don't find it to be a particularly motivating strain, but ironically, it seems to have a strong focusing aspect to its effects. While not racy or speedy, it is almost psychedelic in nature, which is why I say I find the effects to be "hazy". Perception seems to be altered significantly, making this a good strain for introspective and/or creative activities."
Other reviewers had this to say about Tropicana Haze effects:
"Strong pain relief and cheerfulness lasted a few hours."

"Very uplifting and euphoric feeling. An instant cerebral type feeling that puts you in a great mood. It might even come with a case of the giggles. If you are looking for something to treat depression or get you out of a funky mood this is it."

"Great strain. Clear headed mind and body high. Takes away pain and creates a sense of well being."
Overall, of the people who reported the effects of Tropicana Haze:
Uplifted
77% of people report feeling uplifted
Happy
66% of people report feeling happy
Talkative
44% of people report feeling talkative
Dry eyes
11% of people report feeling dry eyes
Dry mouth
11% of people report feeling dry mouth
Pain
22% of people say it helps with pain
Stress
22% of people say it helps with stress
Depression
11% of people say it helps with depression